on
March 30, 2012
at
4:18 pm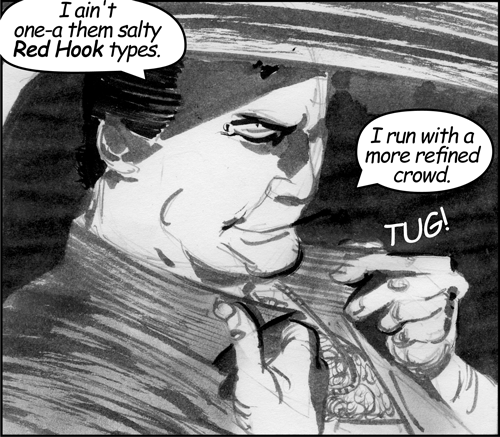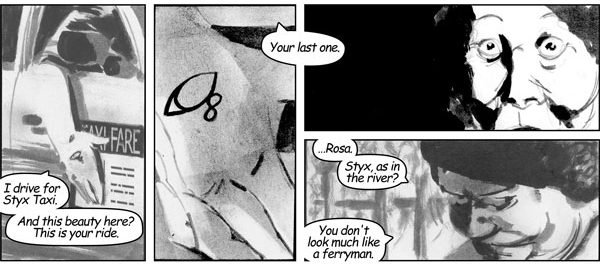 What is STYX TAXI?
STYX TAXI is a sporadic comic series that follows the afterlives and accomplishments of the drivers of New York's only taxi service for the recently-deceased. People die, their souls leave their body, and sometimes, just sometimes, a cab pulls in between them and the Bright Light, offering them a last ride (one stop, two hours max) to anywhere they want to go…a last chance at redemption, closure, or contentment on their way out of this life. (Two hours being how long a soul can still head for the Bright Light before they lose their shot.)
STYX TAXI began for Steven as an idea of finding fresh life for mythology, taking the myth of Charon and the River Styx and giving it some contemporary window dressing…but the series also grew from another desire, to make what his brother dubs "soft comics," very human and character-driven stories that draw heavily on everyday elements.
How many issues have come out?
STYX premiered in 2003 with the one-shot Pastrami for the Dead, written by me and illustrated by Jeremy Arambulo. Pastrami was followed up in 2004 by anthology issue A Little Twilight Music, revolving around musicians and/or music, featuring two stories written by Steven ("Sing Along" and "Encore for My Babies," illustrated by his brother, Dan Goldman, and Rami Efal, respectively) and one written by Elizabeth Genco ("A Coda Vita," illustrated by her husband and partner in StreetFables, Leland Purvis). The series continued in 2005 as part of a FWDbooks chapbook, As Above, So Below, featuring two more STYX TAXI shorts ("Rosa," "Dinner Date #9″) by Steven and Rami, as well as short stories from his novel-in-progress, COUNTING TIME (now NY-FI). In 2007, STYX TAXI ran all previous stories as part of The Chemistry Set, a webcomics site, and premiered the online-only story "Federico," illustrated by Tom Williams.
He's currently scripting new STYX TAXI stories including a STYX TAXI graphic novel, and working on other projects, including CROSS-STITCH, a play, and the aforementioned NY-FI, a transmedia novel.